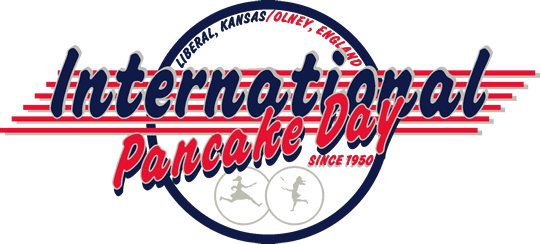 The Official Place for All Things Pancake Day
​Welcome to the Online Home of the International Pancake Day Race!
While you are here, we consider you family. Come on in and look around. You can find history, information, race results for past races, sign up forms for future races, schedules, and a whole lot more. New to the site recently is our online store. Feel free to shop for all of your Pancake Day gear and we will even ship it to your house or business if you are not able to come on down to the Hall of Fame and get it.
Have questions, you can hit us up right here from the site and we will get back to you as quick as possible.
Pancake Day Turns 74 in 2023!
To View the Replay of the Black Hills International Web Chat
Click Here
2023 International Pancake Day Scheduled Released
Liberal's Whitney Hay wins International Pancake Race in 1:07.54. Olney came in a close 1:10.83.
Jeff Parsons offers Whitney Hay the Fist Bump of Peace to Enter the Shriving Service after her International Pancake Day Race win over Olney, England.
Pictured above (left to right), Gary Classen, General Chairman, Maria Alba (3rd Place), Whitney Hay (1st Place and International Winner), Issibelle Sullenger (2nd Place)
Save the Date! 74th Annual International Pancake Day is February 21, 2023!
Don't Miss Out on Your Piece of Pancake Day History