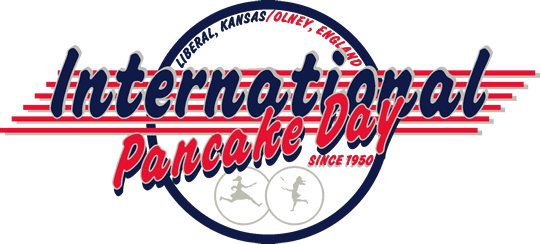 The Official Place for All Things Pancake Day
​Welcome to the Online Home of the International Pancake Day Race!
While you are here, we consider you family. Come on in and look around. You can find history, information, race results for past races, sign up forms for future races, schedules, and a whole lot more. New to the site recently is our online store. Feel free to shop for all of your Pancake Day gear and we will even ship it to your house or business if you are not able to come on down to the Hall of Fame and get it.
Have questions, you can hit us up right here from the site and we will get back to you as quick as possible.
Pancake Day Turns 73 in 2022!
Pancake Chase Fun Run 5K and 1 Mile Predictor Race is scheduled for Saturday, February 26th with registration at 1:00 PM and the run to start at 1:30 pm.
Pancake Day Logo Revealed for 2022!
Pancake Day Schedule Released for 2022!
Most Pancake Day Activities have been moved to Pancake Day. To find this year's schedule, click here.
Grand Marshall's Reception Open to the Public for 2022!
In the past, the Grand Marshall's reception has been by invitation only, but 2022 marks the opening of the reception to the general public. Come meet the Grand Marshall, local, state, and national dignitaries as well as local business owners and Liberal friends and families for a time of food and fun. There is no cost to attend and tickets are not needed. Reception will be Monday, February 28th from 6:00 to 8:00 PM.
Sign Ups for Pancake Day Races Coming Soon!
It is almost time to start signing up for the International Pancake Race, Men's Pacer Race and Youth Races! Sign up times and dates are as follows:
Feb 7-11 from 9:00 AM to 5:00 PM at the Liberal Recreation Center, 950 South Grant
Feb 14-18 from 9:00 AM to 5:00 PM at the Liberal Recreation Center, 950 South Grant
Don't Miss Out on Your Piece of Pancake Day History