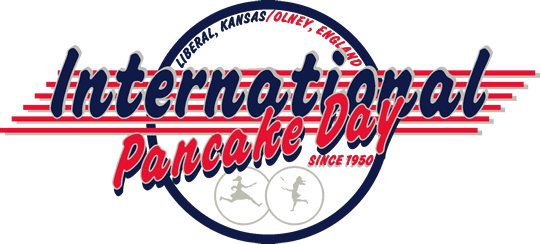 2020 Schedule of Events
The Official Place for All Things Pancake Day
​Welcome to the Online Home of the International Pancake Day Race!
While you are here, we consider you family. Come on in and look around. You can find history, information, race results for past races, sign up forms for future races, schedules, and a whole lot more. New to the site recently is our online store. Feel free to shop for all of your Pancake Day gear and we will even ship it to your house or business if you are not able to come on down to the Hall of Fame and get it.
Have questions, you can hit us up right here from the site and we will get back to you as quick as possible.
Pancake Day Turns 72 in 2021!
Pancake Chase one of the few events possible for 2021! Sign up at the Liberal Recreation Center!
Pancake Chase Postponed!
Due to inclement weather, the Pancake Chase Fun Run has been rescheduled to March 22nd!
Sign Ups Are Still Going on at the Liberal Recreation Center!
Pancake Day Goes Virtual!
The International Pancake Day Race, a tradition in Olney, England for centuries and in Liberal, KS
for the past 71 years has been postponed until 2022. This year's 72nd anniversary will be commemorated with a
social media campaign led by the Liberal Convention & Visitors Bureau on February 16, 2021.
​
Although the pancake breakfast, traditional flipping and eating contest and the parade are canceled for 2021, the
elementary schools inter-school flipping contests will be held.
The Liberal Recreation Department will host the
Pancake Chase, a 5K and 10K outdoor run, as scheduled on Saturday, February 13.
​
"We would like for you to help us honor our tradition by showing Liberal your love of pancakes on February
16, 2021" said Mike Brack, longtime Liberal board member and past chairman of the event.
You are encouraged to celebrate International Pancake Day by posting your photos and videos to social media.
Be sure to use #pancakeday2021 and #tothestarsks.
​
Have a family pancake race in your house or yard
Eat pancakes at a local diner
Practice your pancake flipping skills
Have a pancake stacking contest
Use the Facebook profile picture frame created for International Pancake Day
Pancake Day To Look Different in 2021!
The International Pancake Day Board of Directors has released the following statement regarding Pancake Day festivities in 2021:
​
Olney, England has informed International Pancake Day of Liberal that due to the ongoing Covid-19 Pandemic restrictions in England, they will be unable to hold the International Pancake Race on February 16, 2021. This has been a continuous event between the two towns since 1950. With great reluctance and concern, the Pancake Board in Liberal has decided that it would be best to limit activities here in Liberal as well.
​
There are a few events which will take place in February. The inter-school flipping contests between the elementary schools will be held subject to any restrictions in place by USD480 at the time. This is an event which involves numerous kids at school and gives Pancake Board members a chance to share the history of Pancake Day with the children as well as have friendly competitions between the schools. A virtual event is planned at this time.
The Liberal Rec Department will host the Pancake Chase, a 5K and 10K outdoor run, as scheduled on Saturday, February 13, 2021. More details will be announced closer to the event.
​
Due to limited gathering sizes and need of social distancing the board has decided not to have the annual pancake breakfast, traditional flipping and eating contests and parade. All children's races have been suspended for 2021 as well as the International Race on this side of the pond.
A determination on whether to have the traditional Shriving Service which started the event in the first place will be made in January based on current environmental conditions. While it is extremely disappointing to announce changes like this, we do look forward to returning to a full slate of activities on March 1, 2022.
Don't Miss Out on Pancake Day (Even if it has been adjusted for 2021!) By Owning Your Piece of History