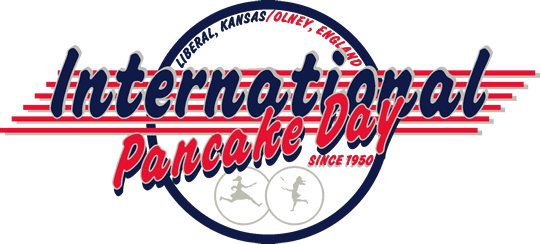 2020 Schedule of Events
The Official Place for All Things Pancake Day
​Welcome to the Online Home of the International Pancake Day Race!
While you are here, we consider you family. Come on in and look around. You can find history, information, race results for past races, sign up forms for future races, schedules, and a whole lot more. New to the site recently is our online store. Feel free to shop for all of your Pancake Day gear and we will even ship it to your house or business if you are not able to come on down to the Hall of Fame and get it.
Have questions, you can hit us up right here from the site and we will get back to you as quick as possible.
Hay Wins Liberal Leg of International Pancake Day Race!
Pancake Day Turns 71 Years in 2020!
Olney Wins International Race by 3 Seconds!
Congratulations to Katie Godof, from Olney, for winning today's International race.
Baby Cakes Named
Beckett LeRoy Luman; DOB: 2/25/20; 9 lb 2 oz; 21 1/2 in.; born 2:54 a.m.; Male; Aaron & Tara Luman, parents of Liberal
Mascot Race Winner Announced
Men's Pacer Race Results
Grand Marshall's Reception A Grand Success
First Ever Pancake Day Carnival In the Books
Flipping and Eating Winners Crowned
Schools Flip for Pancake Day
Don't Forget Your 2020 Pancake Day Swag!